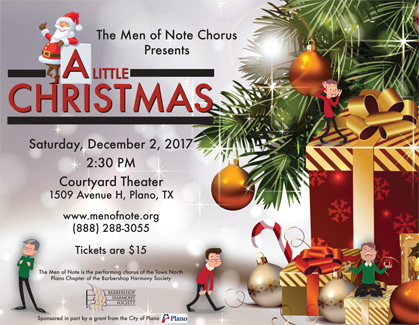 A Little Christmas
Featuring The Men of Note Chorus
The Men of Note, Plano's premier men's A Cappella ensemble, announces its Holiday concert, A Little Christmas, on Saturday December 2, 2017 at 2:30 PM at the Plano Courtyard Theater (1509 H Ave, Plano, TX 75074).
Under the direction of Terry Chapman, The Men of Note will sing favorite Christmas classics along with popular holiday music structured around a narrative that helps to discover the true meaning of Christmas.
This family-friendly event will showcase songs by the Men of Note chorus as well as various quartets and ensembles. It is a great way to start the holiday season with a program that has a great message along with favorite Christmas classics and popular holiday music.

Special guest Doc Gibbs will also be appearing to add some Songs of the Season to the program
Tickets are $15 for general admission seating and are available from any Men of Note member or online.